My favorite 's' word to forecast is sunshine. My least favorite 's' word to forecast is snow. My most-used 's' word when forecasting snow is — well, this is a family site, so I'll leave it at that.
Yes, here we are once again looking at yet another round of potential wintry weather. It is January, after all. This is normal.
Before we get into that…
Our Wednesday hasn't been half bad with temperatures climbing into the lower 50s in most spots. It's tough to complain about that after the chilly past few days we've had.
Lows overnight will fall down into the lower to middle 30s with building clouds.
Thursday will be a similar story to today but with additional cloud cover around. A passing light shower can't be fully ruled out. Highs will span the upper 40s to around 50.
Our Friday looks to be a bit cooler with mainly cloudy skies and highs in the middle to upper 40s.
Now onto this weekend…
I'm going to sidetrack into a mini rant here before getting back to the forecast discussion, because this really needs to be said. If you want to skip the rant, scroll down to where it says 'END RANT' in big, bold letters.
Nothing drives me up a wall more than seeing these bogus (insert the model of your choice *usually the GFS, cough*) single output model images on Facebook depicting some far-reaching, chaotic snowstorm across the southeast with some areas getting a foot or two of snow.
This happens literally every time wintry weather is in the forecast.
I'll admit, I was a kid once. We all were. I grew up at the very beginning of this social media age and didn't create a Facebook until I was nearly an adult (about the same time the platform was really starting to take off).
I was just 18 when I started all of this a decade ago (know then as 'Smith County Weather'), but I was level-headed enough to not do what some of these Facebook pages are doing by throwing out these random, six-hour outputs from the GFS model and passing them along as a forecast for page shares.
One post in particular has 11,000+ shares at the time of writing this.
These pages are predominantly run by middle or high schoolers with a budding interest in weather. There's nothing wrong with that in and of itself.
However…
There's a certain responsibility that goes along with posting weather information on social media. When you decide to take on something like what we've established as Upper Cumberland Weather, you have to understand your position as a gatekeeper.
Posting one run from one global forecast model without any context whatsoever will only cause confusion. You have to be specific and go into great detail about all the nuances from run to run and across different models, which none of these posts ever seem to do.
Meteorologist James Spann (ABC 33/40 – Birmingham, Alabama) put it best in a video he posted last night speaking about the potential societal impacts such posts have.
There have been known instances of folks making life altering decisions after seeing such posts days out from a winter storm, like cancelling or postponing doctor appointments or elective surgeries.
It's just not a good business to be deceptive in weather postings for clicks, whether it's intentional or not. Many will view such postings as legitimate and make very real decisions based on them.
If you're sharing these posts, please look at the source before sharing. If it doesn't check out (grammar usage is a pretty good indicator of legit or not), pass it by and consult with multiple *reliable* local weather sources for good information.
*END RANT*
With that out of the way, what are we actually looking at this weekend?
Well… it's complicated.
Hopefully you've gathered that much by this point.
It's especially reassuring when our local National Weather Service office begins their forecast discussion of this weekend with this statement:
Models are quite literally all over the place with this event.
What we know right now is precipitation will move in during the day Saturday. At this time, this precipitation looks to be in the form of rain. Plain rain. No icing. Just rain. It could start out early in the day as light snow, but rain would eventually win over.
A slight wobble in the track of this low pressure system could mean snow instead of rain (or at least a faster changeover to snow), but as of right now, confidence is a bit higher this will just be rain for pretty much all of Saturday.
Once we cool down enough at all levels of the atmosphere, a changeover to snow may occur sometime between Saturday night and midday Sunday with this event potentially ending as all snow late Sunday.
How much snow will accumulate? We don't know.
And again, this could change.
In fact, *manY* things will likely change with this forecast over the next 72-96 hours.
Gotta love nuance.
The greatest question is how this low pressure system will track. It looks to take on a 'U' shape, as NWS Nashville put it, that will take the low from the plains, down south toward the Gulf, and then back up along the east coast.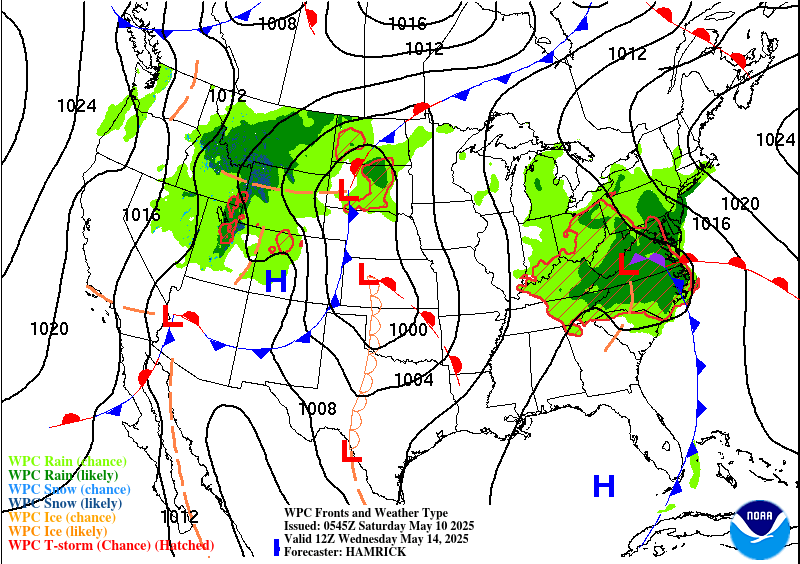 The farther south the low tracks, the better the chance of us seeing an accumulating snow event, with snow possible Saturday, ending Sunday.
The farther north the low tracks, the greater the probability of this being a mostly rain event for us, potentially ending as some snow showers as precipitation moves out Sunday.
We have absolutely no clue right now how far north or south this system will track.
We have absolutely no clue right now how much, if any, snow will accumulate through Sunday.
We have absolutely not clue right now when snow can be expected to begin.
We *will* be able to answer those questions as we get closer to the event, but today is too far out.
As with any winter weather event, we could be well within 24 hours of rain/snow falling before we have a good general idea of how things might shape up.
This is simply the nature of winter weather events in Tennessee.
I could share some of the model outputs we're seeing from the GFS, ECMWF (EURO) and NAM or even the NWS Blend of Models product, but there really is no reason to at this point.
Hopefully by tomorrow we'll have a bit more clarity with this forecast. New details will be shared as better information becomes available.
At the very least, we can say with confidence the first couple of days next week appear dry with temperatures in the 40s.