Photo above taken above Charlton Square by Keith Norrod — looking east toward Cookeville
Primary risks overnight are damaging winds and large hail. There is also a small chance of an isolated tornado, primarily back to the west, but one cannot be totally ruled out anywhere across the Upper Cumberland. This is not a panic and stay up all night event. This is a have a reliable means of receiving weather alerts that will wake you up if necessary event. NOAA Weather Radio, storm alerts app — whichever works best for your situation.

Upper Cumberland Weather (Facebook) – Monday, March 2, 2020 – 12:55 p.m.
I've had this recurring thought in the back of my mind for the past few months of how I should handle the one year anniversary of this tragic day. Should I make a video? Should I maybe go as far as to try rounding up a group of folks who were directly impacted and interview them? Should I go fly Drone Force One over the damage path to show y'all what it looks like now — as if that matters?
The truth is, I don't know how to handle this anniversary.
Tuesday, March 3, 2020, was not a good day for Putnam County – or Smith County – or Wilson County – or Davidson County – or any area impacted by the tornadoes produced by the renegade supercell that wasn't supposed to happen that roared through our communities in the dead of night.
I'm not sure where to begin telling the story of what happened. There will be others who do so more eloquently than myself, and those articles should be spread out all across social media today, so I encourage you to seek them out.
Here's my story.
Saturday, February 29, 2020 – 'Severe Weather Awareness Day' (SWAD)
I look forward to SWAD every year. It's a time for all of us weather nerds from across Middle Tennessee and southern Kentucky to come together and have an event that's all-things weather-related.
Most of the Nashville TV meteorologists are present. NWS personnel whom you never get to meet are there. It's just an overall great day for the weather community in Middle Tennessee, and for the third year in a row, I was representing Upper Cumberland Weather with my own booth at the invitation of NWS Nashville.
Btw, I really missed getting to have SWAD this year.
One thing that has stuck out to me about that day is how there was virtually no talk of severe weather occurring in the coming days. And looking back at the forecast at that point, what was there to discuss?
Severe weather didn't appear to be in the cards for us. Of course, forecasts can and do change – often – but in this case, it appeared the low-end severe weather risks Monday and Tuesday would not extend past the Tennessee River into Middle Tennessee.
Only general thunderstorms were favored for our area.
Sunday, March 1, 2020
I don't recall much from this day aside from it being mild. I had a family gathering up in Red Boiling Springs with my (now) fiancé, Brooke. It's one of the last of such gatherings we would enjoy for a while before the pandemic took hold not even a couple of weeks later.
Forecast-wise, not much had changed with the severe weather outlook. The next day (Monday) looked to bring with it a chance for thunderstorms late day through early Tuesday morning, possibly. The Marginal severe weather risk was extended ever-so-slightly to the east to include areas just west of I-65.
Once again, we were only favored to see general thunderstorms. For that reason, I didn't really call out the slim threat of severe weather to our west on our social media pages.
Why hype up a level 1 out of 5 risk for severe weather that doesn't even include us, especially when we easily see a couple dozen of these risks inclusively every year?
It didn't seem worth it to me.
Monday, March 2, 2020
I was up early Monday morning because my job site was in Nashville (now located at my 'home office' since the pandemic started and will remain that way permanently), and I shared the above post at around 6:45 a.m. before heading into work. Riding on about four hours sleep, I was pretty exhausted already.
NWS Nashville had posted about the evening's storm threat, so I shared their post.
It's worth noting that NWS Nashville updated their graphic and original Facebook post later in the day; at this point in time, the Upper Cumberland was not included in any severe risk. The initial SPC Day 1 severe weather outlook graphic looked like this:
SPC had introduced a Slight Risk severe weather area, primarily focused over West Tennessee. The Marginal Risk extended just a little bit east of I-65, and virtually the entirety of the Upper Cumberland was *still* only outlooked for general thunderstorms late in the night.
At this stage, it appeared a round of potentially strong thunderstorms with a standard severe weather risk would be moving into Middle Tennessee during the late evening hours, weakening considerably past I-65 and becoming a virtual non-threat for us during the overnight hours after most folks had gone to bed.
For those west of I-65, the primary concerns looked to be damaging winds and large hail, and the tornado threat was very low.
For me, it was a normal day at the office. I don't even remember what all happened that day, but when I checked for the latest on the nighttime storm threat during my lunch hour, I was greeted by a fresh update from the Storm Prediction Center.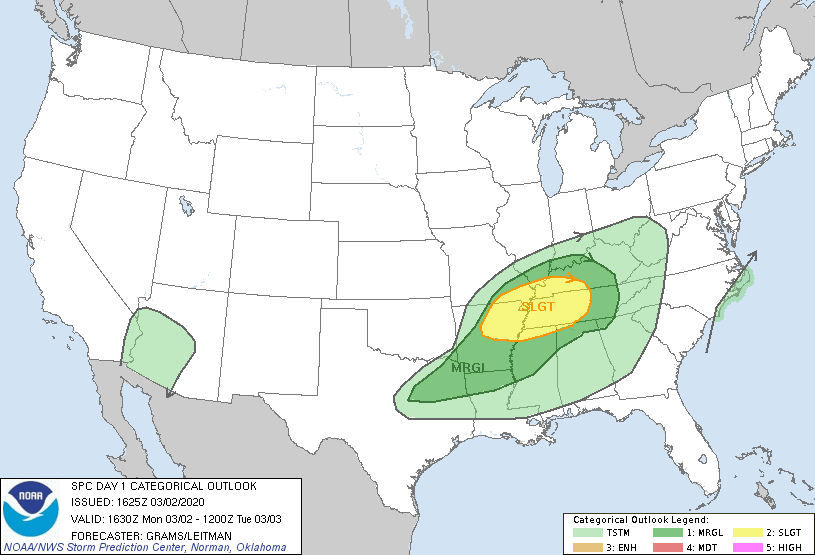 SPC had done two things: 1) extended the Marginal severe weather risk to include the entirety of the Upper Cumberland and 2) introduced a 'Slight Risk' that included the western third of our coverage area.
Basically, the severe weather threat area had ballooned in size. I was none-too-happy about this, although I couldn't blame SPC. They were only working off what the forecast models and various soundings were indicating, and it appeared the threat was shifting much farther east, extending well into the night and early morning hours – even well into East Tennessee!
Being that I was on my lunch break, I didn't have much time to get the word out (remember, we're less than 12 hours away from a severe storm threat no one was really aware of – because we previously had not been facing a severe weather risk), but I managed to post the update below at 12:55 p.m.
Even at this point, it didn't appear there would be much of a tornado threat. Sure, one or two tornadoes can never be ruled out with even the most innocent-looking storm events, but this severe weather threat truly looked to be confined to mostly damaging winds and large hail. Long-track supercell thunderstorms capable of producing violent, EF-4 tornadoes most certainly were not in the cards.
It didn't even *feel* like tornado weather.
I was living in Lebanon at the time, about two miles north of the square. I'd moved there because I had recently started a new job in Nashville, and being closer made sense commute-wise.
After I made it home and had time to get settled, I made the above post and started preparing for eventual live streaming late in the night, if needed. Throughout the evening, I would catch the local news channels break into primetime programming to deliver tornado coverage.
Even at this point, the severe storm threat for us appeared relatively low. I anticipated maybe having to wake up late in the night to cover a Severe Thunderstorm Warning or two, but otherwise, my concern level wasn't extreme.
I went live at the top of the 9 o'clock hour to provide a brief overview of what might be to come overnight. My personal concern was low, but I made sure to communicate the importance of having a NOAA Weather Radio or some sort of weather alerts app that is programmed to sound off for your communities. This is a standard, consistent message I always try to get across during any severe weather event – especially those at night.
A short while later, like most of you, I went to bed.
It's not the first time I've gone on to bed ahead of a potential stormy night. NOAA weather alerts are automatically sent to my phone anytime a warning is issued by the National Weather Service through their iNWS system. I've customized these these alerts to sound for all 12 of our coverage counties.
I estimate I fell asleep around or just after 11 p.m. I was exhausted – riding on only four hours sleep from the night before. I was hoping to at least catch a nap ahead of the storms, although I really hoped they would remain sub-severe.
Instead, I'm awoken at 12:45 a.m. to this:
THE NATIONAL WEATHER SERVICE IN NASHVILLE HAS ISSUED A

* SEVERE THUNDERSTORM WARNING FOR...
  WESTERN SMITH COUNTY IN MIDDLE TENNESSEE...
  CENTRAL DAVIDSON COUNTY IN MIDDLE TENNESSEE...
  SOUTHERN SUMNER COUNTY IN MIDDLE TENNESSEE...
  NORTHERN WILSON COUNTY IN MIDDLE TENNESSEE...
  TROUSDALE COUNTY IN MIDDLE TENNESSEE...

* UNTIL 130 AM CST.

* AT 1245 AM CST, A SEVERE THUNDERSTORM WAS LOCATED OVER MADISON, OR
  NEAR NASHVILLE, MOVING EAST AT 55 MPH.

  HAZARD...GOLF BALL SIZE HAIL AND 60 MPH WIND GUSTS.

  SOURCE...RADAR INDICATED.

  IMPACT...PEOPLE AND ANIMALS OUTDOORS WILL BE INJURED. EXPECT HAIL 
           DAMAGE TO ROOFS, SIDING, WINDOWS, AND VEHICLES. EXPECT 
           WIND DAMAGE TO ROOFS, SIDING, AND TREES.

* LOCATIONS IMPACTED INCLUDE...
  GALLATIN, LEBANON, HARTSVILLE, NASHVILLE, MADISON, HENDERSONVILLE,
  MOUNT JULIET, GOODLETTSVILLE, MILLERSVILLE, LAKEWOOD, HERMITAGE,
  BELINDA CITY, OLD HICKORY, JOELTON, RURAL HILL, BERRY HILL, TUCKERS
  CROSSROADS, BELLS BEND, DIXON SPRINGS AND BLEDSOE CREEK STATE PARK.

THIS INCLUDES THE FOLLOWING HIGHWAYS...
 INTERSTATE 40 BETWEEN MILE MARKERS 201 AND 256.
 INTERSTATE 65 BETWEEN MILE MARKERS 81 AND 100.
 INTERSTATE 24 BETWEEN MILE MARKERS 32 AND 52.
 INTERSTATE 840 BETWEEN MILE MARKERS 72 AND 76.

PRECAUTIONARY/PREPAREDNESS ACTIONS...

A TORNADO WATCH REMAINS IN EFFECT UNTIL 300 AM CST FOR MIDDLE
TENNESSEE.

FOR YOUR PROTECTION MOVE TO AN INTERIOR ROOM ON THE LOWEST FLOOR OF A
BUILDING.

Tuesday, March 3, 2020
As I mentioned, I was living in Lebanon at the time. Wilson County.
I didn't have iNWS configured for Wilson County because it wasn't in the Upper Cumberland Weather coverage area. The alert above made it to my phone because it included Smith and Trousdale Counties, which we do cover.
At this point, I had no idea what was going on. I only figured the storms were coming through a little bit sooner than anticipated. Regardless, I got up out of bed and headed over to the computer to go cover this storm live.
What I didn't know but quickly learned upon going live was that there was an active Tornado Warning that had been issued at 12:35 p.m. that included areas of Wilson County just to my west, along with Davidson County and the city of Nashville. I then found out through NWS Chat that there was an tornado *on the ground* with this storm that had produced damage in Nashville and was heading toward Mt. Juliet – and – eventually – Lebanon.
My attention on the live stream quickly shifted from "hey, there's a Severe Thunderstorm Warning for Smith and Trousdale Counties" to: "hey, there's a tornado on the ground heading in my direction that will eventually cross into Smith County if it holds together long enough."
I wouldn't say that I panicked, but in that moment, I had to make a quick decision, and it was the right one – even if the tornado would end up passing just to my south.
Brooke and I shared an apartment with my best friend Leon. I left the stream for a moment to go wake them up and tell them to get to our laundry room. Fortunately, we were located on the lower level of our building, and the laundry room was centrally located with plenty of walls between there and the outside, so I had them go there.
In the meantime, a Tornado Warning with the 'spotter-confirmed-tornado' tag was issued for the Lebanon area, and we were just about in the bullseye – maybe just a hair to the north.
THE NATIONAL WEATHER SERVICE IN NASHVILLE HAS ISSUED A

* TORNADO WARNING FOR...
  EAST CENTRAL DAVIDSON COUNTY IN MIDDLE TENNESSEE...
  CENTRAL WILSON COUNTY IN MIDDLE TENNESSEE...

* UNTIL 130 AM CST.

* AT 1253 AM CST, A CONFIRMED LARGE AND EXTREMELY DANGEROUS TORNADO
  WAS LOCATED OVER HERMITAGE, OR 10 MILES EAST OF NASHVILLE, MOVING
  EAST AT 45 MPH.

  THIS IS A PARTICULARLY DANGEROUS SITUATION. TAKE COVER NOW!

  HAZARD...DAMAGING TORNADO.

  SOURCE...RADAR CONFIRMED TORNADO.

  IMPACT...YOU ARE IN A LIFE-THREATENING SITUATION. FLYING DEBRIS 
           MAY BE DEADLY TO THOSE CAUGHT WITHOUT SHELTER. MOBILE 
           HOMES WILL BE DESTROYED. CONSIDERABLE DAMAGE TO HOMES, 
           BUSINESSES, AND VEHICLES IS LIKELY AND COMPLETE 
           DESTRUCTION IS POSSIBLE.

* THE TORNADO WILL BE NEAR...
  BELINDA CITY AROUND 100 AM CST.
  LEBANON AROUND 105 AM CST.

THIS INCLUDES THE FOLLOWING HIGHWAYS...
 INTERSTATE 40 BETWEEN MILE MARKERS 218 AND 243.
 INTERSTATE 840 BETWEEN MILE MARKERS 73 AND 76.

PRECAUTIONARY/PREPAREDNESS ACTIONS...

TO REPEAT, A LARGE, EXTREMELY DANGEROUS AND POTENTIALLY DEADLY
TORNADO IS ON THE GROUND. TO PROTECT YOUR LIFE, TAKE COVER NOW! MOVE
TO A BASEMENT OR AN INTERIOR ROOM ON THE LOWEST FLOOR OF A STURDY
BUILDING. AVOID WINDOWS. IF YOU ARE OUTDOORS, IN A MOBILE HOME, OR IN
A VEHICLE, MOVE TO THE CLOSEST SUBSTANTIAL SHELTER AND PROTECT
YOURSELF FROM FLYING DEBRIS.

TORNADOES ARE EXTREMELY DIFFICULT TO SEE AND CONFIRM AT NIGHT. DO NOT
WAIT TO SEE OR HEAR THE TORNADO. TAKE COVER NOW!

A LARGE AND EXTREMELY DANGEROUS TORNADO IS ON THE GROUND. TAKE
IMMEDIATE TORNADO PRECAUTIONS. THIS IS AN EMERGENCY SITUATION.
Per the NWS warning text and from what I could see on radar, I had about 10 minutes before this tornado would be in my vicinity. It looked to me like it would ride along I-40 from Mt. Juliet (I was just north of Hwy 70) to Lebanon, remaining a couple miles just to my south, but there were no guarantees. Even the slightest shift to the north would put this tornado on top of me, so I had to take action.
As the tornado was moving through Mt. Juliet, I went ahead and took cover. I probably could have waited a few more minutes in hindsight, but given the delay between radar and real time, if even by seconds, I didn't want to take the chance. I grabbed a mattress topper and went straight to the laundry room. I left the stream going. Those tuning in saw radar on the left side of the screen and an empty desk chair on the right side.
All the while, the wind is seriously picking up outside, and for the first time ever, I heard live tornado sirens blaring (up to this point, I had spent my entire life in rural Smith County where there are no sirens, so this was a first).
Here's my full severe weather coverage from that night/morning.
I sheltered for 12 and a half minutes before coming back to the microphone and resuming live coverage. In the meantime, I had been posting updates while sheltered and keeping a very close eye on the storm as it rolled toward areas just a couple miles south of me.
The next hour or so is pretty much a blur to me. Going back and watching the coverage myself and having studied the radar imagery, NWS Nashville was truly flying blind with this storm. The problem you run into with with radar is its beam follows the natural curvature of the earth. The closest radar to Cookeville is located in Old Hickory, looking at storms from some 70 miles away.
Due to the curve of the earth and other issues presented with elevation + noise disruptions being so far away, radar had a much tougher time seeing this storm than it did when it was over Nashville and Lebanon.
As I was live covering it, the only indication there might be a tornado approaching Gordonsville was with the velocity couplet. As the storm travelled farther east, the velocity view became messy. Another radar product (correlation coefficient) is capable of determining whether or not debris is being lofted in the air. It wasn't showing anything.
For those reasons, and with no reports coming out of Smith County (at least in the moment), the Tornado Warning was allowed to expire and not immediately replaced.
As the storm continued east, it dropped a weak EF-0 tornado near Buffalo Valley that was only on the ground for a few miles before lifting. This tornado went virtually undetected by radar and was thus un-warned (outside of a blanket Severe Thunderstorm Warning).
At 1:48 a.m., radar had begun to pick back up on possible rotation over Baxter. Thus, a Tornado Warning was issued:
THE NATIONAL WEATHER SERVICE IN NASHVILLE HAS ISSUED A

* TORNADO WARNING FOR...
  SOUTHERN OVERTON COUNTY IN MIDDLE TENNESSEE...
  SOUTHEASTERN JACKSON COUNTY IN MIDDLE TENNESSEE...
  CENTRAL PUTNAM COUNTY IN MIDDLE TENNESSEE...

* UNTIL 215 AM CST.

* AT 148 AM CST, A SEVERE THUNDERSTORM CAPABLE OF PRODUCING A TORNADO
  WAS LOCATED OVER BAXTER, OR NEAR COOKEVILLE, MOVING EAST AT 60 MPH.

  HAZARD...TORNADO AND HALF DOLLAR SIZE HAIL.

  SOURCE...RADAR INDICATED ROTATION.

  IMPACT...FLYING DEBRIS WILL BE DANGEROUS TO THOSE CAUGHT WITHOUT 
           SHELTER. MOBILE HOMES WILL BE DAMAGED OR DESTROYED. 
           DAMAGE TO ROOFS, WINDOWS, AND VEHICLES WILL OCCUR.  TREE 
           DAMAGE IS LIKELY.

* THIS DANGEROUS STORM WILL BE NEAR...
  ALGOOD AROUND 200 AM CST.
  MONTEREY AROUND 210 AM CST.

OTHER LOCATIONS IMPACTED BY THIS TORNADIC THUNDERSTORM INCLUDE
CRAWFORD, RICKMAN AND CUMMINS FALLS STATE PARK.

THIS INCLUDES INTERSTATE 40 BETWEEN MILE MARKERS 281 AND 302.

PRECAUTIONARY/PREPAREDNESS ACTIONS...

TAKE COVER NOW! MOVE TO A BASEMENT OR AN INTERIOR ROOM ON THE LOWEST
FLOOR OF A STURDY BUILDING. AVOID WINDOWS. IF YOU ARE OUTDOORS, IN A
MOBILE HOME, OR IN A VEHICLE, MOVE TO THE CLOSEST SUBSTANTIAL SHELTER
AND PROTECT YOURSELF FROM FLYING DEBRIS.

The struggle for me covering the storm was not being able to clearly see where the tornado might be. Velocity appeared to paint the tornado near Baxter, but the rotation didn't appear all that impressive.
What no one knew (yet) was that there very much was a tornado on the ground – one that would quickly grow to EF-4 in strength and claim 19 precious lives.
The first indication that a tornado had occurred near Cookeville came at 1:57 a.m., reported in NWS Chat by Putnam County EMA. At this point, the extent of the damage and destruction was completely unknown.
Several more reports would come in over the next hour of houses destroyed…people trapped…injured…
I signed off at 3:15 a.m. after the last Severe Thunderstorm Warning for our coverage area was allowed to expire. I was exhausted and went to lay down for a bit but could not sleep as I digested all that had just transpired over the past two and a half hours.
55 minutes later at 4:10 a.m., I received the following Facebook message:
I lost it.
I did the only thing I knew to do in that moment. I dropped to my knees in tears and went to the Lord in prayer.
The Putnam County Sheriff's Office made it official a short while later, and I had to make the toughest post I've ever made in eight and half years of doing this.
This wasn't supposed to happen. There wasn't even supposed to be severe weather that night as of a couple days before, yet like a thief in the night, a tornado came and took lives with it.
And as news reports would indicate throughout the day, more lives than just those three were taken.
19.
These 19.
A year later, it's still hard to process. 19 lives were taken from us, and there was nothing we could do about it. Many of them were in well-built homes. From the accounts I've read, some were taking shelter. But without a basement, that EF-4 tornado swept everything away and didn't leave room for protection.
I'm more blessed than I deserve to be. I didn't get hit by the tornado. I didn't lose power. My family – all of them were just fine and weren't hit, either.
It's not fair. None of it is fair.
I did everything I could do to warn, but it wasn't enough. And even it had been enough, it still might not have truly been enough.
Later that morning, I set out to look at the damage myself. Being in Lebanon, I started there. I eventually worked my way to Smith County, and before the day was done, I had to see Cookeville. Whatever I could see of it. I needed to see it in person. It's not something I ever wanted to forget.
I was only able to get as far as the eastern edge of the damage path near Tech's campus and the western edge where it began near Baxter. Clemmons Road was the hardest hit area I was able to see – everywhere between there and Cookeville was completely inaccessible.
The pictures I took in Wilson, Smith and Putnam Counties are below.
To see so much destruction in our great communities was completely heartbreaking. I only know my own experience. I can't even fathom what the experience of having the tornado pass directly overhead of me would have been like. Frightening is most certainly an understatement.
That day woke me up. I don't know what else I could have done that night to warn folks in the path, but I'm never going to stop trying to figure it out.
I owe it to all 19 of those whose lives were taken to make sure I'm doing everything in my power to get the word out during severe weather in as clear and concise of a manner possible.
I already tried to do that. Now it's something I demand of myself.
I've had a couple people share their own stories with me, so I'm sharing them with you below. If anyone reading this has a story they want to share, feel free to send a DM to our Facebook or Twitter pages – or email me – [email protected].
Joshua's Story:
I'll never forget how I found out it happened..here in Red Boiling Springs my wife and I were sleeping when our daughter came in our bedroom because she's afraid of thunder and our Box Elder tree (since been removed) was dropping limbs on the roof above her bedroom it didn't help that it was her first night in our house when we got it. She woke me up and wanted to get in bed with us so I picked her up and put her beside me..I checked my phone (verizon) and noticed I had no service so I reached over and got my wife's phone (AT&T) to check the weather she was a house manager at the time at Home Caregivers in Cookeville which meant she was in charge of scheduling and call outs and the like she had a text from her staff on shift that night asking to call her..well I did as I always did as I worked there too and knew her staff and called before waking Megan up and Renee answered the phone and informed me that her house had been destroyed in a tornado and wanted to know if Megan could come in a little early…my response was "your house was destroyed in a WHAT?" So I woke Megan and she immediately began to get ready to go take her staffs place once she got off the phone I started looking at Facebook and started to take in that parts nashville and my hometown of cookeville had been devastated by a large twister but at that time I was unsure of the path it took or how bad it really was so I attempted to reach out to my mother who did not have phone due to a power outage we got in my car I had at the time and raced southeast toward cookeville. We were in silence until we got far enough down North Springs HWY that we crossed into Jackson County and as soon as we crossed the power was out just pitch black I told Megan that it had to be bad because it must've knocked out the TVA feed from Center Hill to gainesboro and other outlying areas of Jackson county..we turned on the radio to rock 93.7 finally and began to listen to their excellent coverage of the tragedy..it was then I learned it took a path from Baxter Crossroads straight toward Cookeville Regional Medical Center but lifted as it hit downtown Cookeville..I was at first relieved to know it hadn't made it to where any of my close family was at the time but once I realized where it had hit I looked over at Megan and said "This hit one of the most subdivided parts of putnam county mostly homes not many businesses" I got her to work and let her staff go home and I took my daughter to my mom's house which was close by..I drove around the outlying areas of the tornados path and sw the insulation and roofing tin hanging in trees and my heart sank every time I heard someone had been found deceased..and that's what a lot of it was on the 5th of March my good friend and landlord William volunteered to help clean up..when I first laid my own eyes on the deavastation of Eller Plantation I was shocked I knew then how powerful this storm really was..William and I and some other guys helped cut some trees off of a nice woman's house but that was about all we could do as so many people where helping there..that's about all I can say about it I luckily wasn't affected by it directly but my cousin lost a wife and home and another cousin lost a home it wasn't until later how many cousins I had affected and there are probably still more that I don't know about now…just felt I should share my families experience anyway for my own memory..my thoughts go out to everyone who lost a loved one or their homes.
Angela's Story:
my husband and i live in double springs. I had fallen asleep on the couch. I heard my phone go off and ran to my husband trying to wake him, when i did he started to put his boots on and there was time we heard the wind picking up then the sticks hitting our house. All we could do was hold each other. I've never been so scared then the electric went out and just like that it was gone. It must have just went right over us. We quickly ran outside to our storm shelter we stayed for 20 minutes. When we came out all you could were sirens all around us. My thoughts and prayers are with everyone on this day!!
Let not your heart be troubled: ye believe in God, believe also in me. In my Father's house are many mansions: if it were not so, I would have told you. I go to prepare a place for you. And if I go and prepare a place for you, I will come again, and receive you unto myself; that where I am, there ye may be also. And whither I go ye know, and the way ye know. – John 14:1-4