It still appears we may see strong to severe thunderstorms tomorrow — primarily during the afternoon and evening hours.
We'll remain dry overnight with lows falling down into the middle to upper 40s.
A warm front will be lifting northward toward our region tomorrow morning. That front will bring with it widespread rain and thunderstorms by late morning into lunchtime. Previous indications were that we could see severe storms with this initial round, but that chance is now looking less likely. While a stronger storm or two cannot be totally ruled out, our main severe chances don't look to arrive until later in the afternoon or evening. Should we see a stronger cell or two with the morning round, damaging winds and large hail will be our primary, but low, concerns.
The warm front doesn't look to lift too much farther north than our region before stalling out somewhere in Kentucky tomorrow afternoon.
Once we're on the warm side of the frontal boundary, the atmosphere will begin to destabilize, setting the stage for potential strong to severe storms later in the afternoon and evening.
Right now, it appears that frontal boundary should make it fully into Kentucky, but should it get hung up over our region, that will set the stage for heavy rains and limit our overall severe potential. Right now, it looks like the front will make it into Kentucky, but it's something we'll be watching for tomorrow.
Our greatest severe potential looks to come probably during the evening hours in the form of a line, although individual storm clusters can't be ruled out. Damaging winds, large hail and even a few isolated tornadoes all look to be in play — especially along and south of I-40 where instability will be greatest.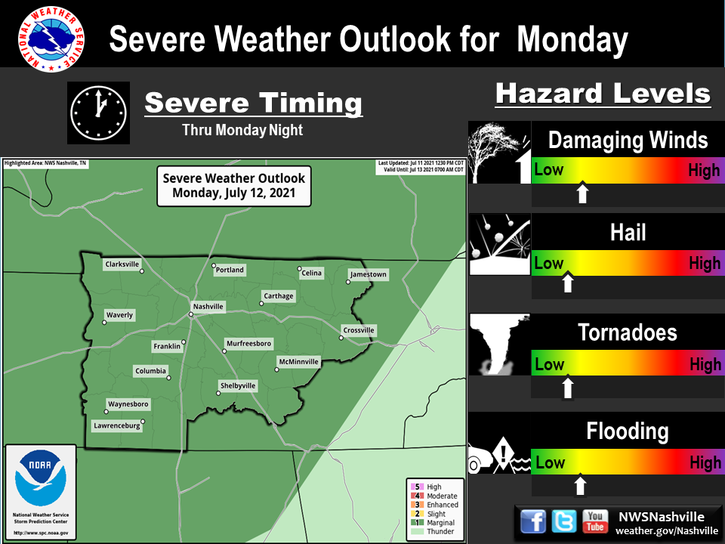 The Storm Prediction Center currently has their Day 2 severe weather risk basically split along I-40 (at least here in the Upper Cumberland, indicating that the greater severe risk will be to the southwest from Carthage to Cookeville and Crossville, south to Smithville and Sparta. Northern areas aren't out of the woods; however, instability looks to be a bit less in these areas.
Severe threat tomorrow are as follows (note: these threats are for our southern areas — the threats drop a bit the farther north you are):
Tornado: 5% (within 25 miles of any given location)
Damaging Winds: 15% (within 25 miles of any given location)
Large Hail: 15% (within 25 miles of any given location)
Timing:
Primarily late afternoon and evening Tuesday. A strong storm can't be ruled out late in the morning with that initial round.
Now is the time to make sure you have a way of receiving weather alerts should a warning be issued for your area. If you have a NOAA Weather Radio, make sure it is plugged in with fresh batteries and set to go off for your county. Regardless if you have a weather radio or not, it's also recommended you have a secondary means of receiving alerts, such as a reliable smartphone weather alerts app like Storm Watch Plus.
Know your plan for shelter should a warning be issued. Make sure your phone is fully charged and consult with multiple reliable weather sources throughout the day.
We will have updates posted to our Facebook and Twitter pages throughout the day. Our radar live stream runs 24/7, and I will break in with severe storm coverage if and when it's needed. You can find our live stream on our home page here, Facebook, Twitter and on our new YouTube channel.
Beyond Tuesday, we'll begin to dry out through the end of the week with temperatures climbing to near 80° by Friday!