We're still continuing to monitor the potential for severe storms this afternoon and evening. As advertised, rain has overtaken the region as a warm front begin to lift northward into Middle Tennessee.
Right now, it appears this warm front will stall out somewhere across the Upper Cumberland — say along I-40 or thereabouts. This is important, as the greatest severe potential will occur *south* of that frontal boundary. The front could also lift farther north or stay farther south, so keep that in mind, as well.
Those along and south of I-40 from Smith, Putnam and Cumberland Counties, south into DeKalb and White Counties should pay extra attention this afternoon as this event unfolds.
It does appear the greatest potential for tornadic supercells will occur just to our south across southern Middle Tennessee and into northern Alabama, as those areas will have just the right combination of wind shear and instability to cause cells to rotate.
Our southern areas I mentioned will be close enough to that pro-severe atmosphere that we should keep an eye on how things develop this afternoon.
The farther north you are (Lafayette, Gainesboro, Jamestown, Livingston, Byrdstown, Hartsville … and surrounding communities), the less probable severe weather becomes. Should those areas remain north of the warm front, severe weather will be of lesser concern, but not zero.
As far as timing is concerned, our greatest window for severe weather potential looks to be between 5-10 p.m. It won't storm that entire time, but all of us will likely see storms at some point during that time frame.
Damaging winds, large hail and an isolated tornado or two are all possible, especially the farther south you are.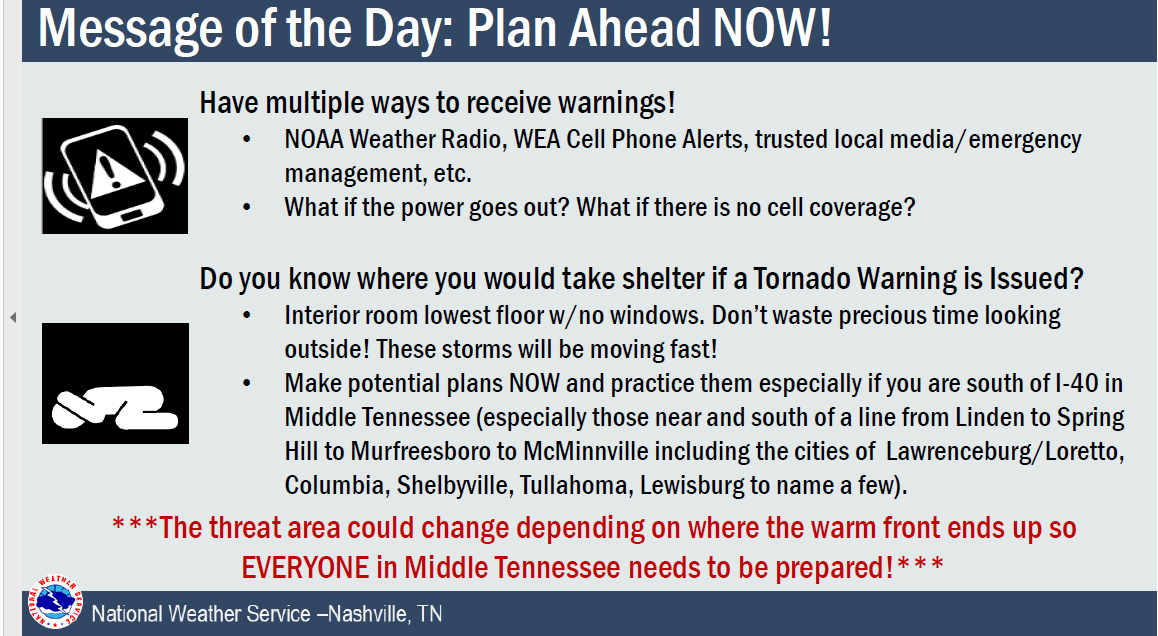 This is an evolving weather day with many elements in play that could shift our severe weather potential from one end of the spectrum to the other, so pay close attention to the radar and consult with multiple reliable weather sources as we go through the afternoon.