Note: This is the first blog post made here in quite some time. The idea is for this to become a daily thing again. If you like reading them, then be sure to share or retweet with your friends on social media, leave comments, reactions, etc. That lets me know y'all like these and also helps to spread the word and bring in more readers!
Just as the headline above says, chances for pop up showers and storms are continuing into today.  In fact, we're already seeing activity on the radar, which we have live streaming below:
Not all areas will see activity today, but those that do could see a stronger storm or two with gusty winds and some hail.
The Storm Prediction Center has the entire Upper Cumberland in a Marginal Risk (1 out of 5) of seeing severe weather today.
Pretty much, severe chances are greatest as you work your way into East Tennessee, but our storms here could also become strong.
Again, not all areas will see activity today.
Future radar:
The latest HRRR run (above) paints a favorable picture for this afternoon, with the activity popping up now across the Upper Cumberland sliding east and leaving us mainly dry.
It should also be noted that the HRRR (and other models) have had quite a difficult time examining the weather pattern we're in and trying to come up with solutions, so take the above image with a grain of salt.
That same HRRR run brings what appears to be a weakening conglomerate of showers and thunderstorms into Middle Tennessee and the Upper Cumberland later tonight while most of us are sleeping (ETA around midnight-ish).  Again, that's something that remains to be seen, especially with the HRRR not being very reliable as of late.
It's worth noting that the NAM3 model (below) also shows those same storms dipping down into their area, but its current thinking has them weakening much more than the HRRR.
Bottom line: This weather pattern we're in is a (insert noun of your choice here) to predict.
Aside from the pop up shower/storm chances, temperatures are a few degrees cooler than average in the lower to middle 80s…but that's coupled with dew points in the 70s, making it feel extra oppressive outside.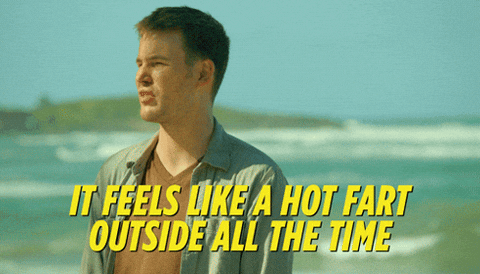 For tonight, we'll have to wait and see what happens with that area of thunderstorms the HRRR wants to pull down our way.  Outside of that, we're looking at mostly cloudy skies with lows falling down into the upper 60s to lower 70s.
For tomorrow, it's much the same story as today.  Unfortunately, we don't know when or where storms may decide to fire, but there is a good chance something will pop up somewhere, perhaps multiple places…but not everywhere.
Temperatures will be warmer in the upper 80s to lower 90s in most areas that aren't the Plateau.  Muggy dew points will only make it feel even more oppressive.
Extended: